5 Best Audiobooks on Audible Plus
Audible, owned by Amazon, is one of the largest audiobook sites on the market today, offering almost all audiobooks. Currently, Audible offers two subscription models. The first is Audible Plus, a model which gives users unlimited access to the audiobooks in the Plus catalog, which includes over 10,000 audio publications. However, when you cancel your subscription, you will lose access to the audiobooks. The second is Audible Premium Plus, an old-school credit-based subscription formerly known as Gold/Platinum membership. Users who subscribe to this mode can enjoy everything Audible Plus offers, and plus 1 title per month from an extended selection of bestsellers and new releases. But this model is much more expensive than the first one.
Audible offers so many audiobooks that you're overwhelmed? It's okay, this article will recommend the 5 best audiobooks on Audible Plus for you now.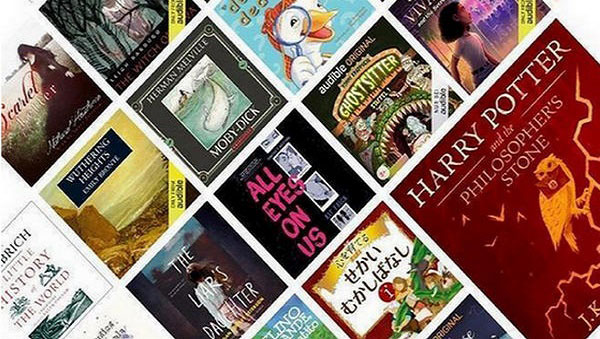 1.Twelve Years a Slave
Twelve Years a Slave is written by Solomon Northup and narrated by Hugh Quarshie. Solomon Northup was originally an educated and free black man who living with his wife in New York City, but was cheated into slavery. For twelve years, he experienced numerous humiliations and fought hard for freedom. Solomon Northup describes his own experiences and records his relentless struggle to hold on to his dignity and pursue freedom. More importantly, 12 Years a Slave tells the story of the unfathomable atrocities of institutional racism in nineteenth-century America. AS a reviewer said, Northrup's story, because it is told from the perspective of a free as well as enslaved man, is special and builds a helpful bridge that a 21st century free person can relate to.
2.Pride and Prejudice
This is one of Jane Austen's most beloved works. Set in rural England in the early 19th century, Pride and Prejudice tells the timeless story of the turbulent relationship between Elizabeth Bennet, the daughter of a country gentleman, and Fitzwilliam Darcy, a wealthy aristocratic landowner. One of them is synonymous with arrogance and the other is synonymous with prejudice, but in the end, one puts down arrogance and the other removes prejudice.
3.Tell Her Story
This one is new to Plus catalog and only from audible. The author is Margot Hunt, and it is narrated by Dakota Fanning. The story follows a journalist named Paige Barrett who finds herself back home in the seaside town of Shoreham, Florida, working as a waitress and living in her sister's hotel when she is suddenly fired and abandoned by her boyfriend. Looking for something to pass the time, she decides to launch a true-crime podcast about the death of Jessica Cady. The case has no clues and the more she investigates, the more suspicious she finds the case, but the closer this gets to the killer. Paige is ultimately determined to do whatever it takes to uncover the truth. If you are a horror fan, then you should listen to this newly released book.
4.The Secret Garden
The Secret Garden is a children's literature work written by American writer Frances Hodgson Burnett and was narrated by Carrie Hope Fletcher. It tells the story of the eccentric and withdrawn little girl Mary Lennox, who lives in her uncle's mysterious and gloomy big house after her parents died. A magical experience brings Mary into a long-closed and deserted garden. Mary, the farm boy Deacon and the sick young master Colin, who has been locked in a dark room for many years, found the key to happiness and experienced a poetic resurrection with the garden. It is the best-selling classic children's novel in the past 100 years, and has been adapted into film and television works many times.
5.Tales of Beatrix Potter
This amazing collection features eighteen of Beatrix Potter's most charming stories about Peter Rabbit, Tom Kitten, Squirrel Nutkin, Mrs. Tittlemouse, and the others have enchanted children for over a hundred years, narrated by the wonderful Nadia May. The narrator did an excellent job. You could see the characters in your mind as she was reading. This book is not only suitable for small children, but also for you who keep your childlike heart and love Peter Rabbit and Tom Kitten.
---
As mentioned in the first paragraph, if you cancel your subscription, you will lose access to the audiobooks and your offline audiobooks will expire. Besides, since Audible audiobooks are encoded in AA or AAX file formats that protected by Digital Rights Management (DRM), you are not allowed to play it on other devices. So is there any way to save them forever and achieve cross-device playback? Of course you can do that! But you need the help of a powerful software. Any Audible Converter is a great option that helps you download audiobooks directly from Audible and convert them to formats compatible with most other devices. Next this article will show you how to save Audible audiobooks with Any Audible Converter.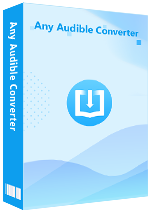 Features of Any Audible Converter:
Download audiobooks and podcasts from Audible/Audible Plus.

Convert Audible audiobooks and podcasts to M4A, M4B, and MP3.

Support splitting audiobooks by length, chapters, or segments.

Keep chapters and ID3 tags after converting audiobooks and podcasts.

Enjoy free upgrades and technical support services.
Download Win
Download Mac
Save Audible Audiobooks with Any Audible Converter
Step 1

Launch the Program

After installing and logging into the software, you will see a very concise main interface like this.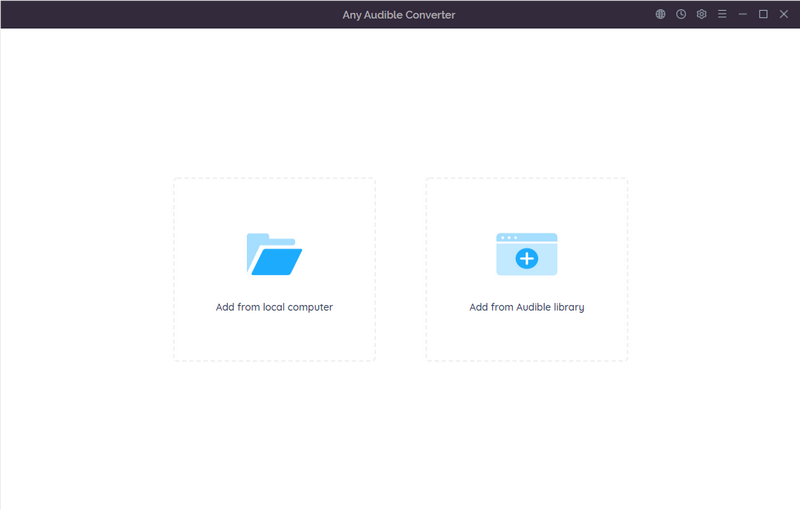 Step 2

Customized Settings

Click the setting gear in the upper right corner. You can choose the output format, the output quality and output folder as you like.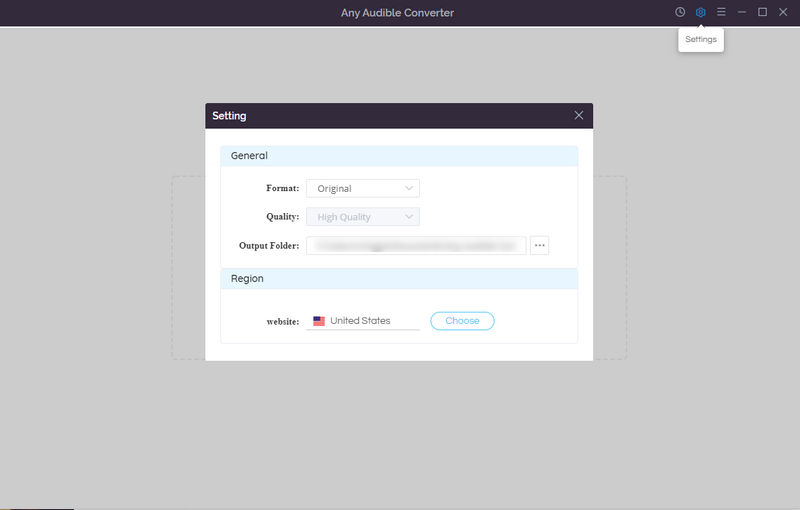 Step 3

login Audible

Click on the "Add from Audible Library" button and sign in Audible.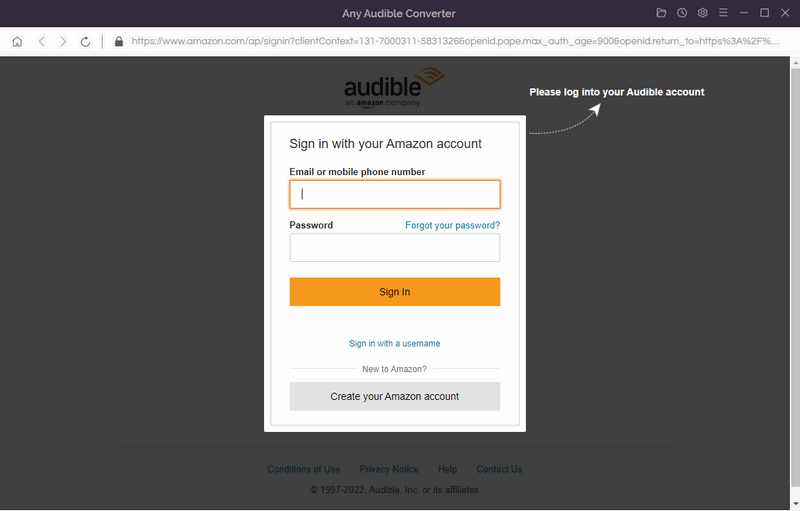 Step 4

Add Audiobooks

Search for an audiobook you like from the recommendations above, and then click "Add to list" button.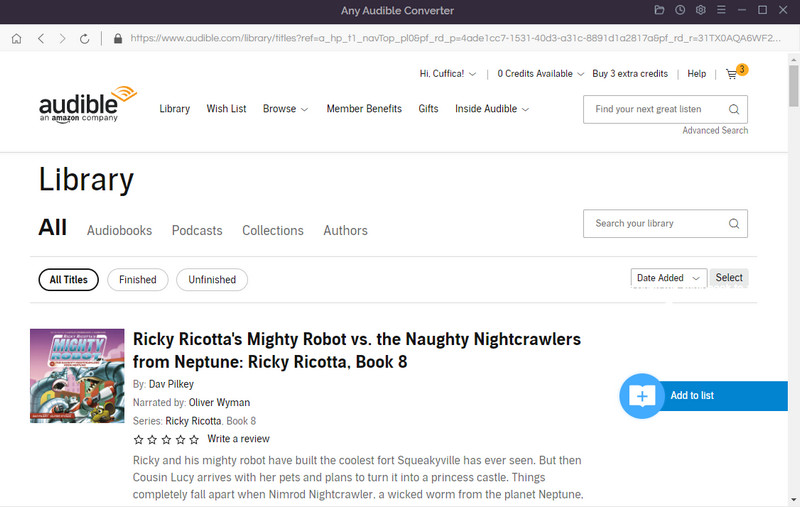 Step 5

Start Conversion

Click the "Convert" button to start the conversion. You can also click the "History" button to check the record of converted files after the conversion.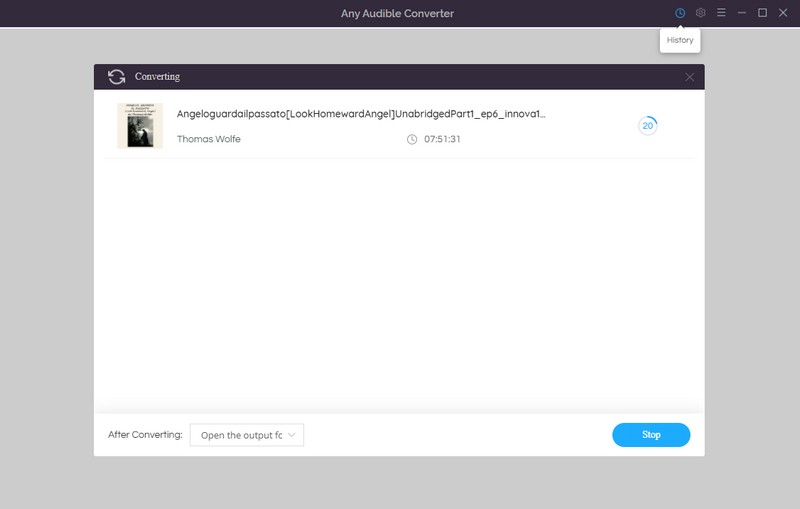 Currently, outside distractions are increasing, the advent of smartphones and massive amounts of content are reducing people's average attention span, some audiences have even developed fast-food reading habits. While when listening to a book, audiences are forced to follow the progress of the dubbers and have to return to a normal reading speed. This allows readers who are in the age of digital fragmentation to be able to quietly enjoy the books again. Now, just pick one book that you are into it to enjoy. If you really like it and want to save it to enjoy it often, then try Any Audible Converter!
You may also like? Check out:
Follow this article to see how to download Audible audiobooks and transfer them to USB.
Fous on helping you save Audible audiobooks to SD card and free up your storage space.