5 Best Free Audiobooks on Audible
As one of the largest audiobook websites, Audible has numerous audiobook resources and is the first choice for many audiobook lovers. Given that there have been articles recommended for best Audiobooks on Audible Plus. This post will recommend the 5 Best Free Audiobooks on Audible. To listen to books without limits on Audible, you must subscribe first. As we all know, free is better! So can Audible listen to books for free? The answer is, of course, yes. Follow this post to see what the 5 best free audiobooks on Audible are and how can you listen to free audiobooks on Audible.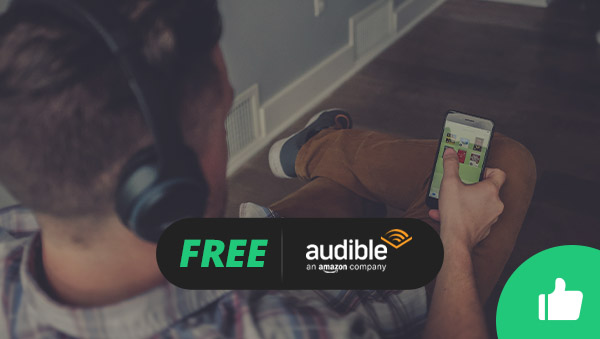 1. Jane Eyre
Jane Eyre is a long, autobiographical novel written by the English author Charlotte Bronte. The novel focuses on Jane Eyre's love affair with Rochester. Jane Eyre's view of love deepens her personality. She believes that love should be based on spiritual equality, not on social status, wealth or appearance. The novel spectacularly displays the twists and turns of the hero and heroine's love experiences and celebrates freedom from all old customs and prejudices. It is a powerful and soul-stirring art that is rooted in mutual understanding and respect. Its greatest success lies in its portrayal of a woman who dares to resist and fight for her freedom and equality.
2. Alice's Adventures in Wonderland
Alice's Adventures in Wonderland, commonly abbreviated as Alice in Wonderland, is a famous children's literature written by Lewis Carroll, a nineteenth-century English writer and mathematics teacher at Christ College, Oxford University. It tells the story of a little girl named Alice who accidentally fell into a rabbit hole in pursuit of a talking rabbit with a pocket watch, thus entering a magical country and experiencing a series of fantastic adventures. Although this fairy tale is full of absurd and bizarre fantasies, the writer deeply insinuates the social reality of England in the mid-nineteenth century.
3. The Scarlet Letter
The Scarlet Letter, written by Nathaniel Hawthorne, is the story of a tragic love affair set in colonial North America. It's a tale of betrayal, revenge, loyalty and redemption. The novel uses symbolism and subjective imagery in its characters, plot and language, and often gives primacy to human psychological activity and intuition in its descriptions. As a result, it is not only a masterpiece of American romantic fiction, but is also known as the seminal piece of American psychoanalytic fiction.
4. Sherlock Holmes
If you are a fan of detective fiction, then this novel by Arthur Conan Doyle is a must-read. Stories included in the collection are A Study in Scarlet, The Sign of Four, The Adventures of Sherlock Holmes, The Memoirs of Sherlock Holmes, The Hound of the Baskerville, The Return of Sherlock Holmes, The Valley of Fear, and His Last Bow.
5. Why We March
Technically it can't be called a book as it has no storyline. In fact, this is a brief compilation of stories of what pride means to different members of the LGBTQ+ community. Whether you are a member of the LGBT or someone who has a certain prejudice against, I hope you can take 28 minutes to hear their true inner thoughts. Love is love. Hopefully one day people will all appreciate each other's choices and love is respected.
Audible adopts a subscription model. Basically, most audiobooks require a subscription to be listened to. Users can subscribe to Audible Plus or Audible Premium Plus. There is currently no dedicated free section on the homepage, but it is strange that if you type "free audiobooks on audible" directly into your browser, a link to the free section will appear, but the number of valid books is very small and there is a time limit.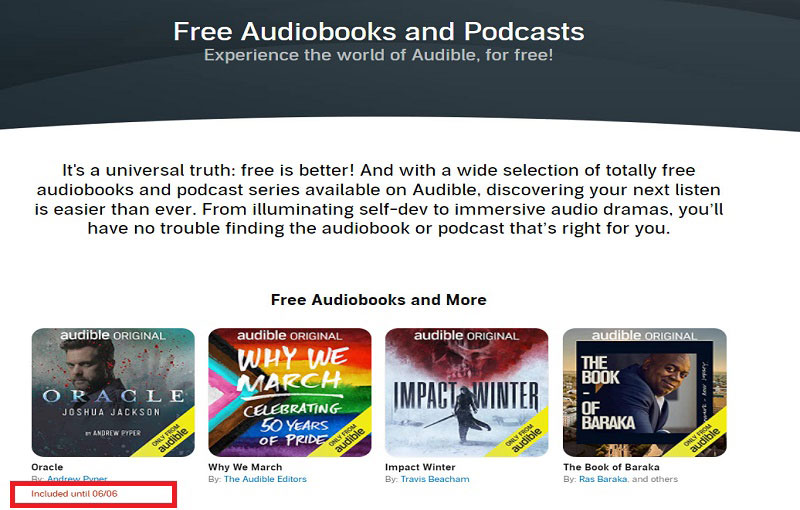 Affected by the COVID-19 epidemic in 2020, cities and schools were locked down. To help people get through this difficult and boring time, Audible launched a free listening book campaign at this time, covering six categories of books, most of which are suitable for children, but there are also two major sections - "literary classics" and "folk fairy tales", suitable for adults to listen to. Unfortunately, it seems that the page for this event no longer exists.
Don't worry, there's one last way to listen to books for free. Audible has a 30-day trial. It comes with podcasts, audiobooks, guided wellness, and Audible originals. You can listen to all you want and no credits are needed. After 30 days, the monthly fee is $14.95 or one month. You can cancel at any time before being charged.
---
If you are listening to these books through a 30-day free trial and want to cancel your subscription before the trial period ends, you will soon lose access to them. Even if you have downloaded them during the trial period, you will still not be able to listen to them later, and they will not be available to play on other devices.
This article will then show you how to keep these books permanently and achieve across-devices playback. What you need to prepare is a powerful tool. Any Audible Converter is highly recommended. It is a powerful yet easy-to-use audiobooks converter that allows users to convert the AA, AAX audiobooks and podcasts from Audible/Audible Plus to multiple output formats like M4A/M4B/MP3 so that you can enjoy your audiobooks on most of the music players without restrictions.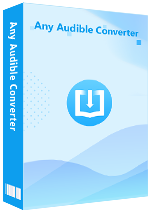 Features of Any Audible Converter:
Download audiobooks and podcasts from Audible/Audible Plus.

Convert Audible audiobooks and podcasts to M4A, M4B, and MP3.

Support splitting audiobooks by length, chapters, or segments.

Keep chapters and ID3 tags after converting audiobooks and podcasts.

Enjoy free upgrades and technical support services.
Download Win
Download Mac
Save Audible Audiobooks with Any Audible Converter
Step 1

Launch the Program

After installing and logging into the software, you will see a very concise main interface like this.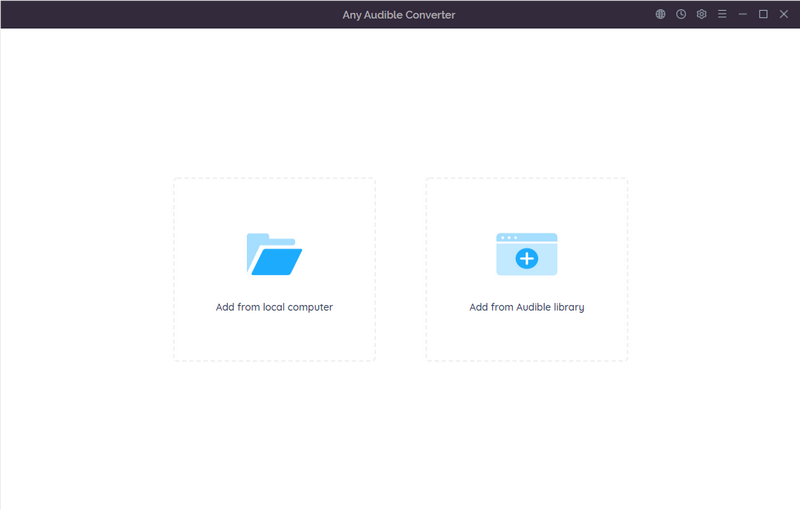 Step 2

Customized Settings

Click the setting gear in the upper right corner. You can choose the output format, the output quality and the output folder as you like.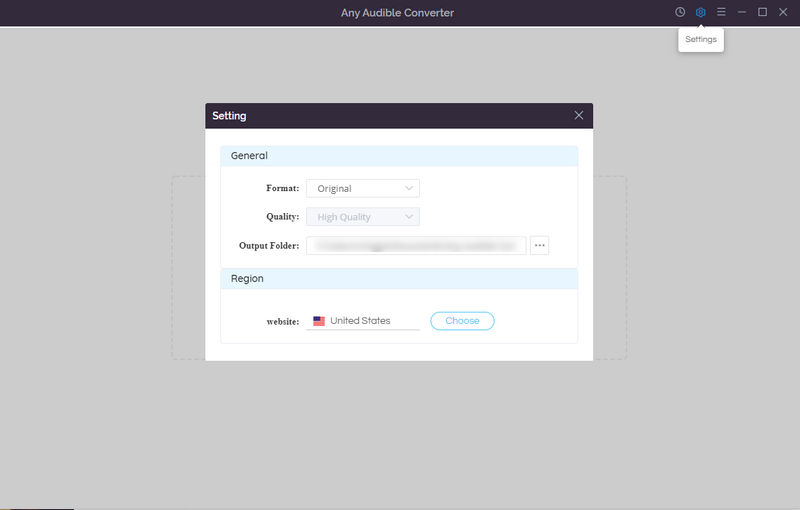 Step 3

Login Audible

Click on the "Add from Audible Library" button and sign in Audible.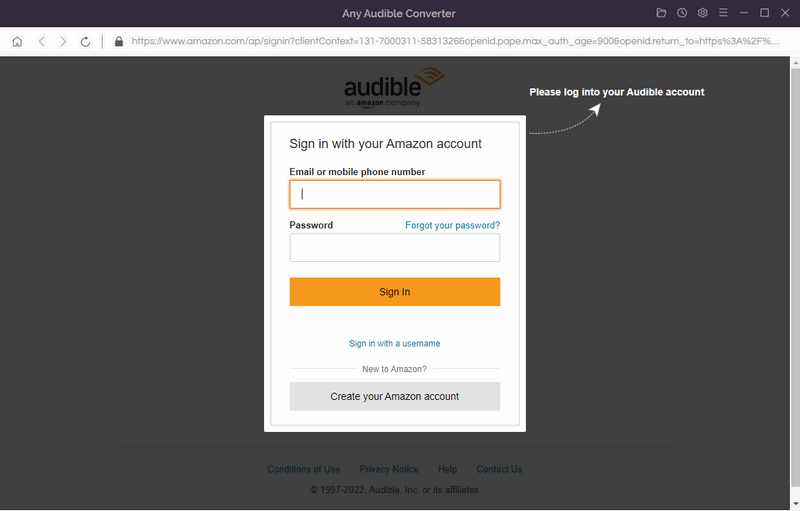 Step 4

Add Audiobooks

Search for an audiobook you like from the recommendations above, and then click "Add to list" button.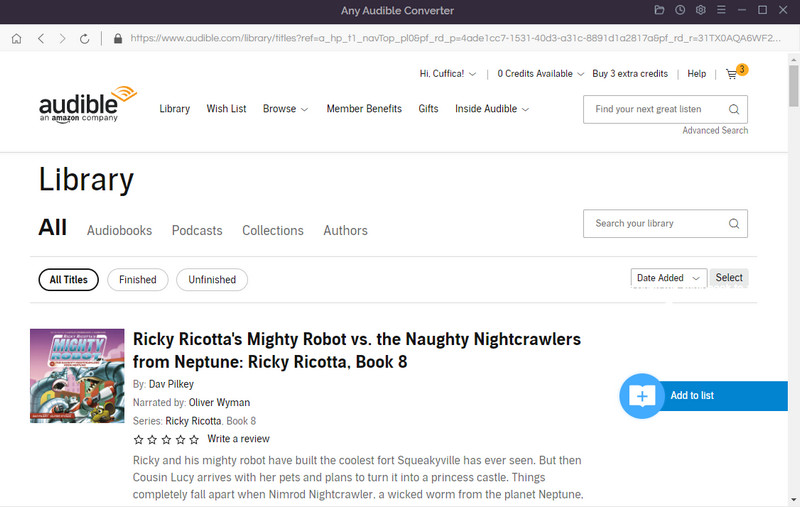 Step 5

Start Conversion

Click the "Convert" button to start the conversion. You can also click the "History" button to check the record of converted files after the conversion.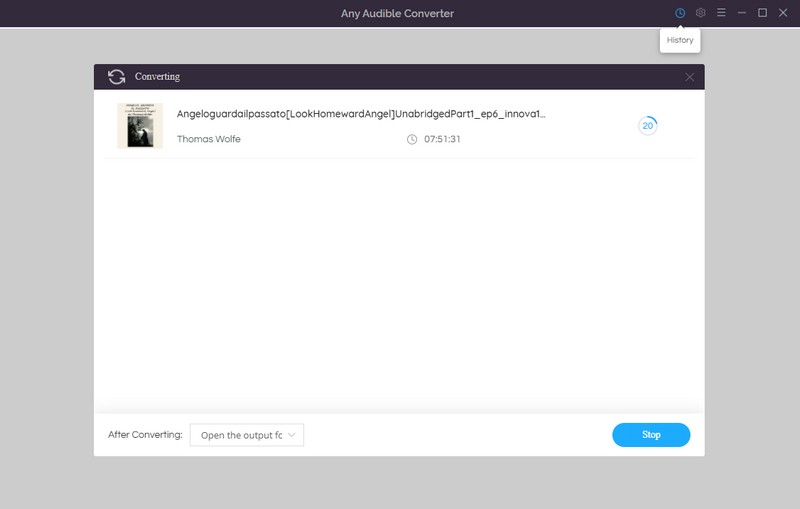 Read much, but not too many books. The five books recommended in this article are definitely all worth listening to. If you want to keep these books forever or share them with your friends, then try Any Audible Converter to download them for free and convert them into a format that is easy to share.
You may also like? Check out:
Focus on helping you convert AAX audiobooks to MP3 to achieve cross-devices playback.
Follow this article to see how to download Audible audiobooks to Mac in two ways.