How to Convert Audible Audiobooks to M4A
The term "audiobook" was introduced in the 1930s, when government programs were designed specifically for blind readers. Audiobooks were first introduced in the United States in 1970 when audio tapes began to replace records. The report predicts that audiobook sales are growing rapidly and are expected to surpass those of e-books. There are currently many platforms in the market that offer audiobook services, such as Audible, LibriVox, Lit2Go, and Audiobook Treasury, of which Audible, an Amazon subsidiary, has a huge market share and a large inventory of books, including a variety of audiobooks, Audible Originals and exclusive podcasts, and you can even listen to the latest products and sales books.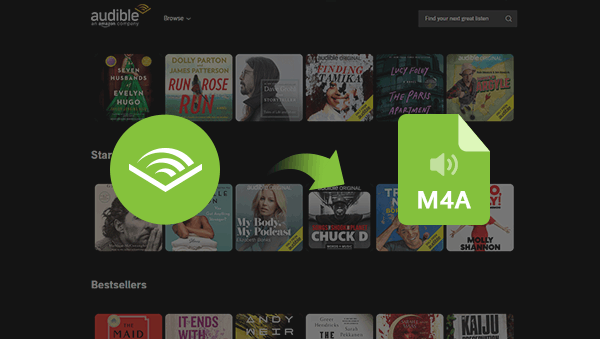 For most people who don't know much about computer technology, they may wonder what M4A is. In fact, M4A, like the familiar MP3 format, is also an audio format file. M4A is the extension of the MPEG-4 audio standard file. The ".M4A" extension has become popular since Apple started using it in its iTunes and iPods to distinguish MPEG4 video and audio files. Currently, almost all software that supports MPEG4 audio supports ".M4A", but the support varies. Depending on the audio channel, the support varies from one software to another.
As for why you need to convert Audible audiobooks to M4A format, there are several reasons.
First, most audiobooks downloaded directly from Audible are in the DRM-protected AA or AAX format. As a proprietary audio format, it can limit your playback on a specific device. If you are an Audible subscriber, you may have experienced that you have downloaded several audiobooks you like during your subscription period, which you can listen to offline via Audible, but when you save the downloaded files for playback on other devices they won't work. This is precisely because other devices are not compatible with this kind of encrypted and protected format. So if you want to play your Audible audiobooks on other devices without any restrictions, you need to convert this format to another more compatible format such as M4A.
Secondly, you may wonder why I recommend you convert audiobooks to M4A instead of another format. When it comes to formats of audio files, the first thought is usually MP3. We know that uncompressed audio formats such as WAV and AIFF can provide great sound quality, while at the cost of high file sizes. Just like images, files that are too small have poor quality, and similarly, small audio files lose clarity and detail. However, M4A files are encoded using the lossy Advanced Audio Coding (AAC) codec, which is capable of delivering the same bit rate as MP3, but with better compression. This reduces the file size while providing higher audio quality.
---
If you want to accomplish this conversion, then you will need the help of a powerful software. Any Audible Converter is highly recommended to help you. Just as its name implied, it is a professional software to convert Audible AA or AAX audiobooks to other common formats. After the conversion, you can enjoy your favorite audiobooks offline forever. If you are an audiobook fanatic who is very concerned about sound quality, then this software is the best for you. Because it converts Audible audiobooks without any loss and keeps ID3 tags, which means that your audiobook sounds 100% the same as the original. You can even set to split audiobooks by chapter, length and paragraph before converting. By the way, this software is available on both Windows and Mac computers.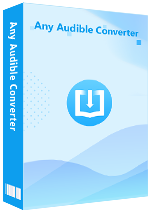 Features of Any Audible Converter:
Download audiobooks and podcasts from Audible/Audible Plus.

Convert Audible audiobooks and podcasts to M4A, M4B, and MP3.

Support splitting audiobooks by length, chapters, or segments.

Keep chapters and ID3 tags after converting audiobooks and podcasts.

Enjoy free upgrades and technical support services.
Download Win
Download Mac
Convert Audible Audiobooks to M4A with Any Audible Converter
Step 1

Launch Any Audible Converter

After installed and successfully logged in, you will see a very concise main interface like below. You can convert audiobooks both from local files or Audible library.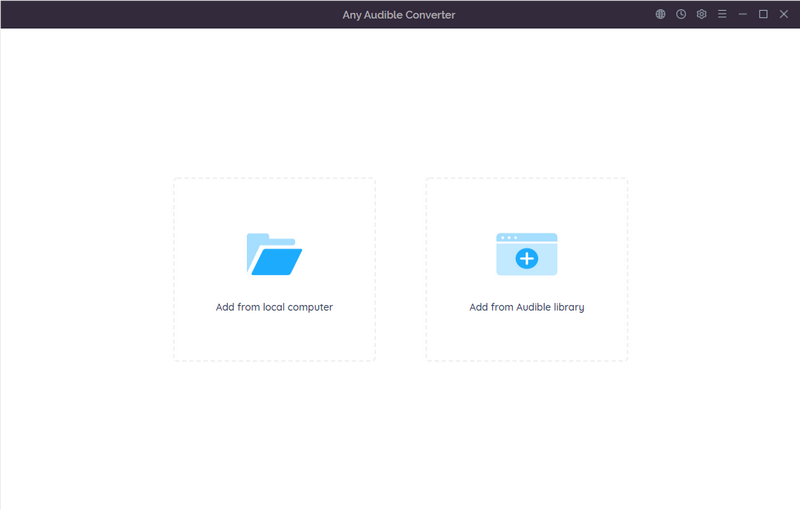 Step 2

Customized Settings

Click on the gear-like "Setting" button in the upper right corner. Here you can set the output format, output quality and choose the output path. Please set output format as M4A.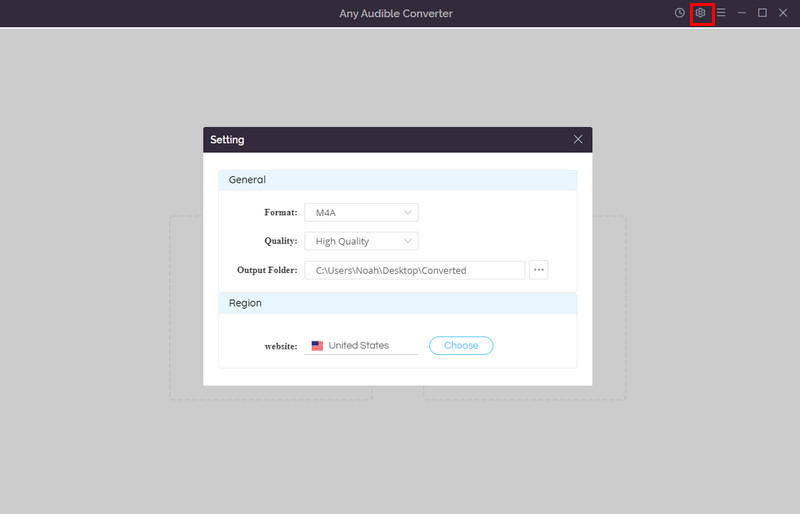 Step 3

Add Audiobooks

Make sure you have already downloaded your audiobooks to local. Then click the "Add from local computer" button to add local audiobooks to Any Audible Converter.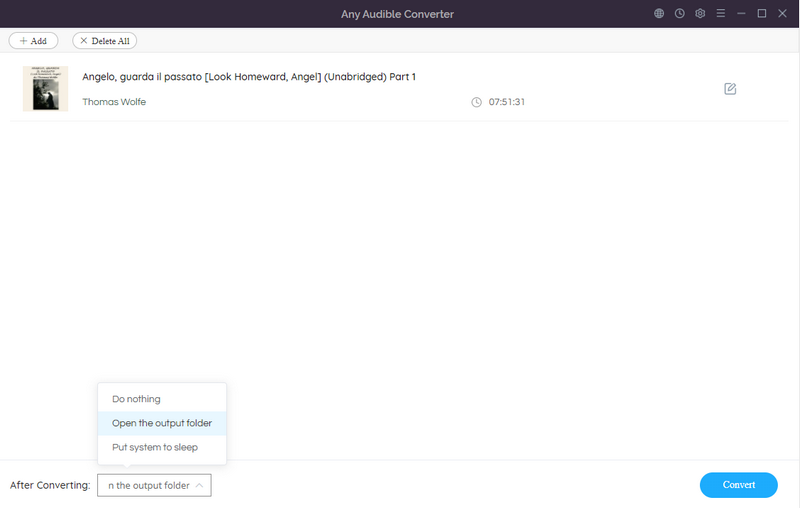 Click on the "Add from Audible Library" button and log in to Audible. Search the audiobook that you want to convert. Then click this book and click the "Add to list" button after that. If there are other Audible audiobooks that need to convert, please click the "Save to list" button to continue. After that, you are allowed to check the books you add by clicking the "Task List" button.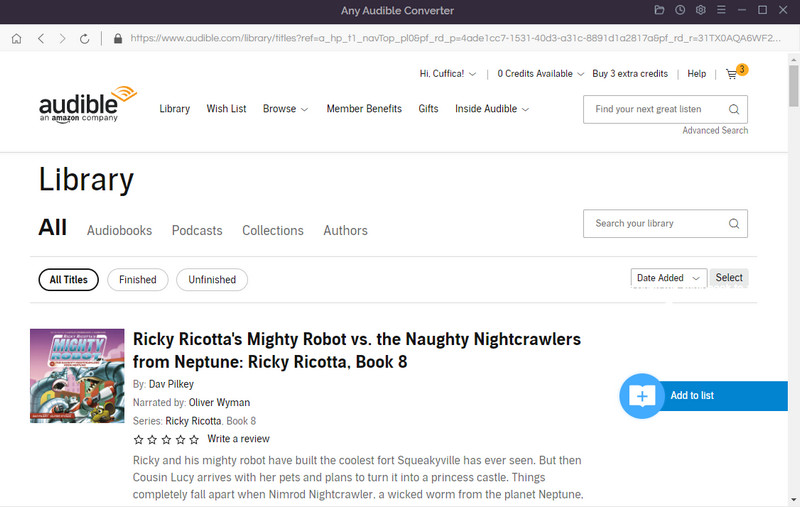 Step 4

Advanced Settings

If you add audiobooks from the local computer, then you can set to split the audio file into segments, click the "Advanced Setting" button next to the name of the book to set it.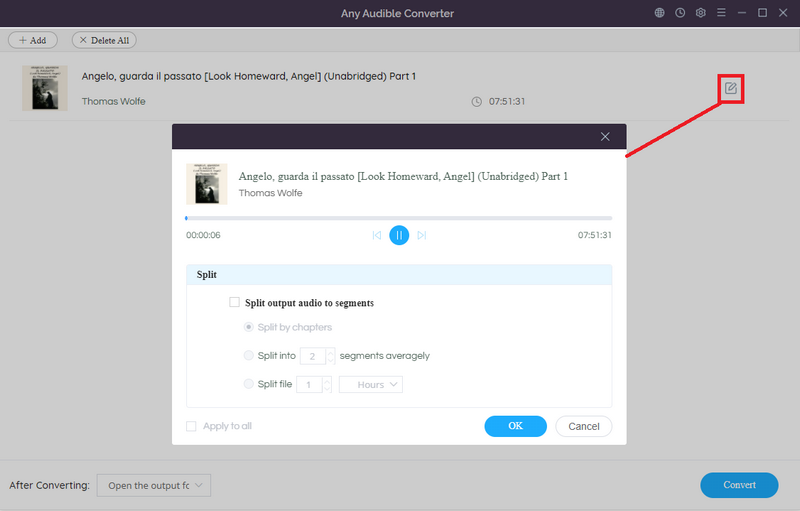 Step 5

Start Conversion

Now make sure all the settings are finished, and then click the "Convert" button to start the conversion. You can also click the "History" button to check the record of converted files after the conversion.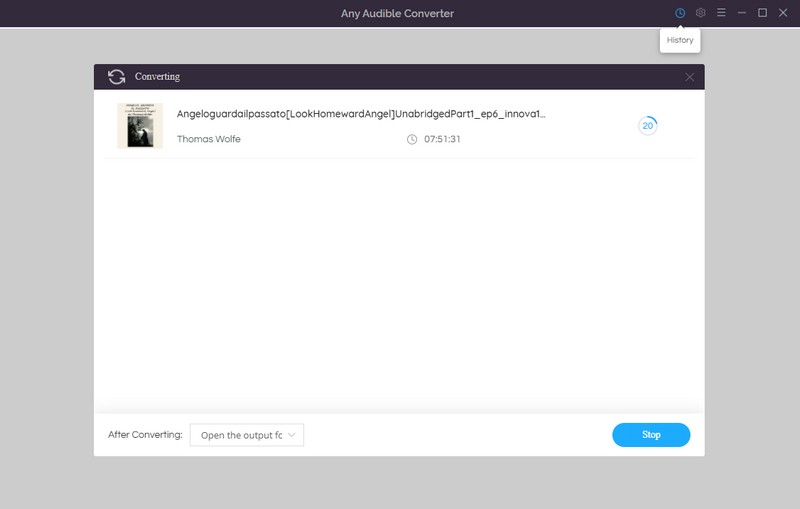 Audiobooks can liberate your eyes. Nowadays, many people face electronic screens every day during study and work, which is easy to cause visual fatigue. Audiobooks allow people to receive information effectively without harming their eyesight. But before this, you have to convert Audible audiobooks to M4A to achieve playback without any restrictions. Any Audible Converter not only helps you to unprotected and convert Audible audiobooks to M4A format, but also allows you to download and convert audiobooks directly from Audible library. So what are you waiting for? Just try it by yourself.
Video Tutorial: How to Convert Audible Audiobooks to M4A
You may also like? Check out:
This guide will help you to download audiobooks from Audible Plus to save them forever.
This guide will help you download podcast from Audible to MP3 and listen to them on multiple devices.