How to Transfer Audible Audiobooks to USB
With the promotion and popularity of a series of electronic devices such as smartphones and wireless Bluetooth headphones, audiobooks have turned into a fast-growing field, while digital audiobooks are gradually integrated into people's lives. Nowadays, many audiobook websites have emerged on the market, among which Audible, as an audiobook website with a huge number of users, has many audiobook resources. For audiobook lovers, there are naturally more than one audiobook that they want to listen to. Audiobooks need to be cached if you need to listen to them offline, however whether on your phone or on other portable players, the internal storage is easily filled up with these audiobooks. Should we let the limited storage space restrict users from listening to other audiobooks? Fortunately, we can solve this problem by transferring some audiobook files to an external storage device, such as a USB flash drive.
Next, this post will introduce you the easiest way to transfer Audible audiobooks to USB drive in detail.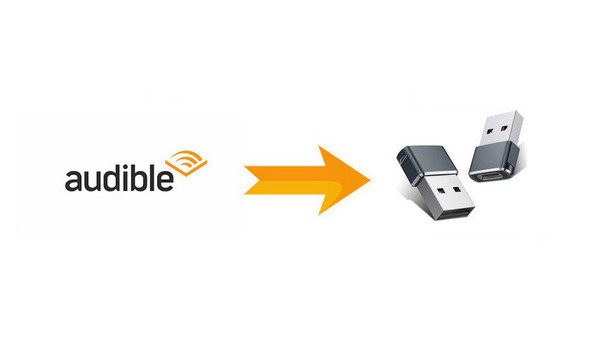 ---
Unlike SD cards, Audible does not officially offer the option to download audiobooks directly to USB. The first thing that we have to make clear is that even if you download audiobooks during your subscription period and then somehow save those files to a USB drive, you still can't play those audiobooks on other devices. This is because Audible audiobooks are encoded in the AA or AAX file format, which is protected by Digital Rights Management (DRM). Since they cannot be downloaded directly, we have to ask help for a third-party tool to transfer the audiobooks to a USB drive and play them on other devices. So how to choose a powerful tool? We must start from our own needs and find tools to meet them.
1. First and foremost, we need to convert Audible's DRM-protected AA or AAX files into mp3 formats that are compatible with most devices.
2. Keep the original lossless sound quality and ID3 tag.
Considering the above factors, Any Audible Converter meets all the requirements. It not only supports converting Audible AA or AAX files to MP3 mode, but also to various other modes such as M4A/M4B. For sound quality, Any Audible Converter converts Audible audiobooks without any loss. More surprisingly, Any Audible Converter will keep the original chapters and ID3 tags after conversion and even allows you to part your audiobooks by chapters, lengths, and or segments. In short, Any Audible Converter can meet almost all your needs.
Now let's see how to transfer Audible audiobooks to USB with Any Audible Converter.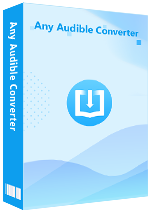 Features of Any Audible Converter:
Download audiobooks and podcasts from Audible/Audible Plus.

Convert Audible audiobooks and podcasts to M4A, M4B, and MP3.

Support splitting audiobooks by length, chapters, or segments.

Keep chapters and ID3 tags after converting audiobooks and podcasts.

Enjoy free upgrades and technical support services.
Download Win
Download Mac
How to Download Audible Audiobooks and Transfer them to USB Drive?
Step 1

Run the Program

Launch the software, and you will see a very simple interface like this.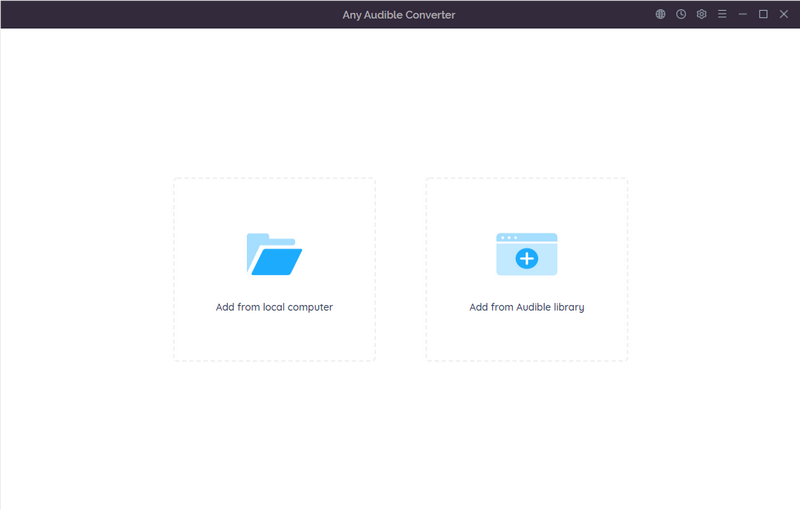 Step 2

Customized Settings

Click the setting gear in the upper right corner. You can choose the output format, the output quality and output folder as you like.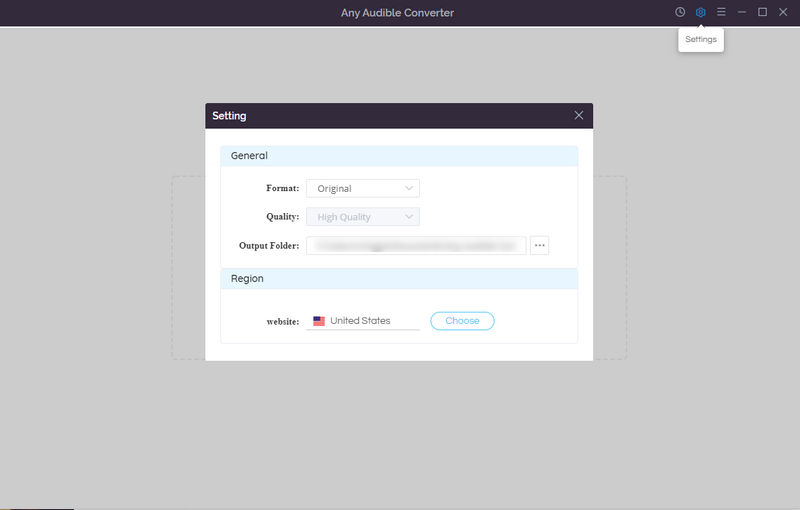 Step 3

Add Audiobooks

For the first way, you can choose to add Audible audiobooks from the local folder. Make sure that you have downloaded audiobooks in advance.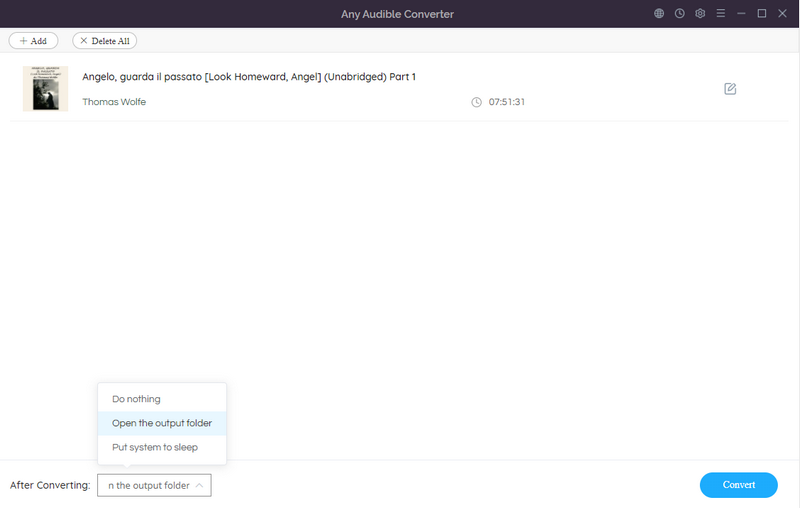 For the second way, you can "Add from Audible Library" directly. Click it and log in Audible. Choose any audiobook that you want to download and transfer to your USB, then click "Add to list" button. If there are other Audible audiobooks that need to be transferred, please click "Save to list" to continue. After that, click "Task List" button to check the books you have added.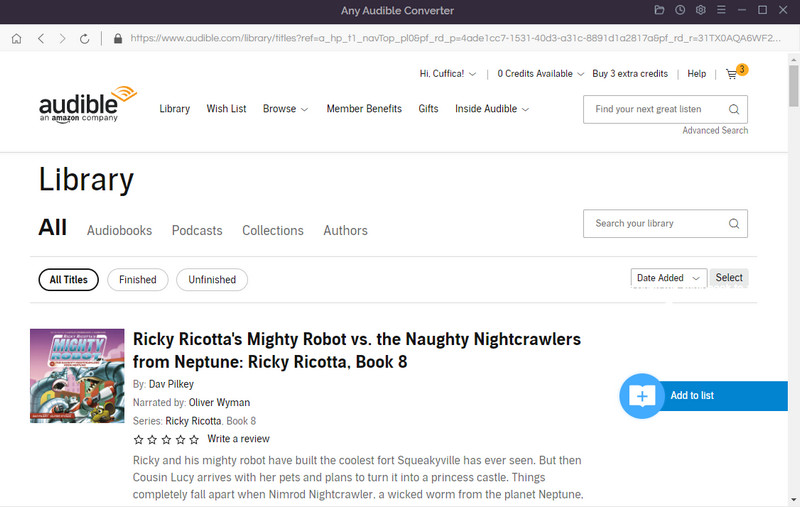 Step 4

Advanced Settings

If you choose the first way to add from the local folder, then you can set to split the audio file into segments.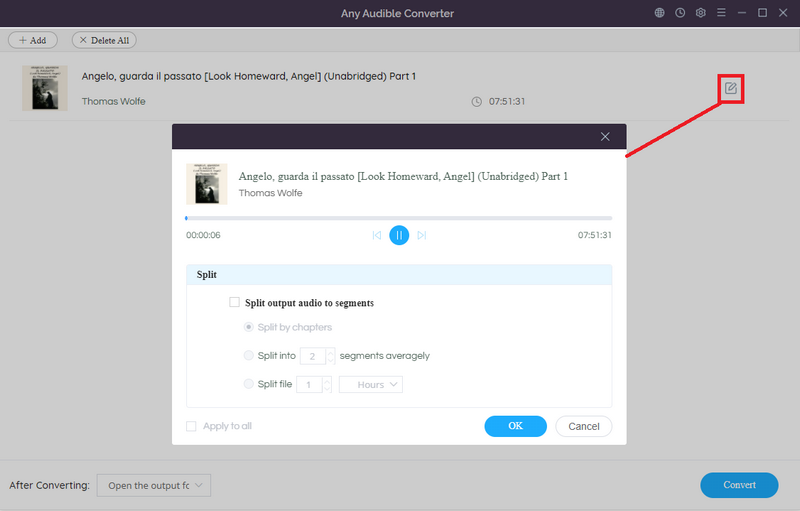 Step 5

Start Conversion

Just click the "Convert" button to start the conversion. You are able to check the record of converted files after the conversion by clicking the "History" button.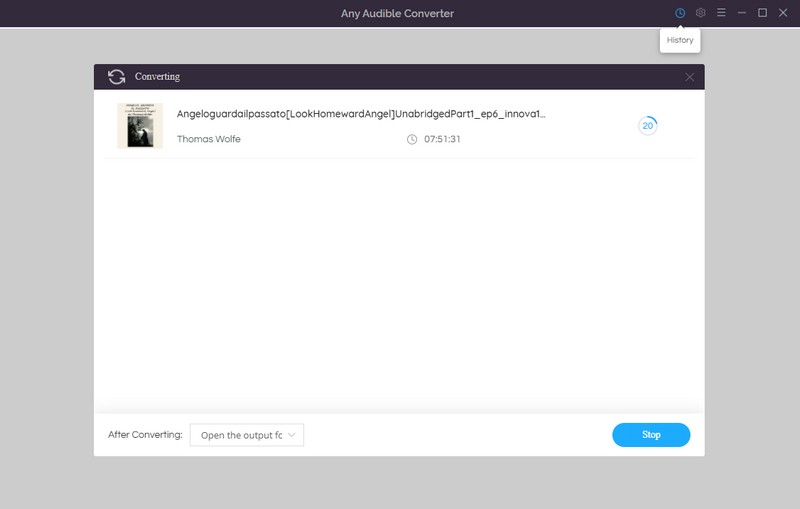 Step 6

Transfer Downloaded Audiobooks to USB

Please locate your converted Audible books, and plug in the USB to your computer. Before transferring, you can test whether the audiobooks can be played properly on other players. Finally copy and paste those audiobooks to the USB drive.

1.Large capacity and easy to carry around

A complete high-quality audiobook file has a large memory, and if you want to save multiple high-quality audiobooks, you need a large-capacity storage container. Most USB devices are small, light and relatively thin. If you want to carry a large amount of data, USB hard disk of course will be the first choice.

2. Simple and convenient, wider application range.

After saving the audiobooks to a USB stick, you can freely transfer the Audible audiobooks to any other device with a USB port to enjoy the audiobooks, such as car systems, computers, PSP, Xbox, DVD players, smart speakers, smart TVs, etc. In addition, except mobile devices such as mobile phones, the use of SD cards requires a card reader to be configured, but the use of USB drives does not require anything. You can use once you plug it. Computer and USB stick resources can be easily transferred to each other.

3. Data backup

Any portable storage device is prone to failure over time, an additional backup of data is an additional security.

As a good transfer tool and storage tool, USB can help us solve many problems in our daily life. In order to transfer Audible audiobooks to a USB flash drive and play them properly on other devices, you must first convert the audiobooks to other compatible formats. Any Audible Converter can help you with this task. At the same time, it is simply the most suitable software for audiobook lovers, because it can convert without damaging the sound quality, and it can retain the ID3tag. There is nothing more than trying it yourself, this software will definitely wow you.
You may also like? Check out:
This guide will introduce the best way to share Audible audiobooks with your friends/family.
This article will recommend five best audiobooks on Audible Plus for you.